PPSSPP-iOS Buildbot 2.0
These builds are provided by W-MS and are totally free of charge. However donation for server cost is welcomed.
这些编译版本是免费的,但欢迎捐赠编译服务器的开支,放一台苹果在机房还是挺贵的。
捐赠99元以上的记得备注邮箱,赠送免越狱版本(无需电脑)。(20230326更新:开发账户名额已满,赠品发放完毕。)


IPAs need to be signed (Developer cert or Cydia Impactor) on computers before install. DEBs require jailbroken devices. IPA is preferred. You can use Cydia Impactor to sign an ipa archive.
IPA文件安装前需要先签名(Cydia Impactor或开发证书),DEB需要越狱。推荐使用IPA,可以使用Cydia Impactor免费签名。
目前已知不越狱可原生实现JIT的版本:iOS 14.2-14.3,其他版本可通过jitterbug实现JIT。
Download Windows and Android builds from Orphis buildbot.
Code is hosted on GitHub.
See PPSSPP website for more information.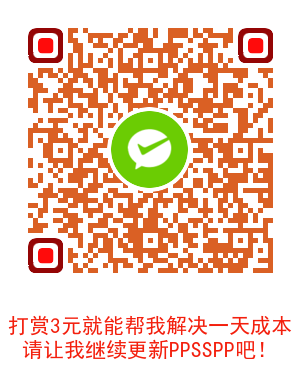 感谢您的支持!
v2020.5.20
New UI from MoeClub/OneList
Real-time compile!